Haiti Outreach Mission Website
Click the button below to visit Haiti Outreach Mission's website:
Haiti Outreach Mission Fundraiser Events
Knights of Columbus' Spaghetti Dinner, September 23rd, 2023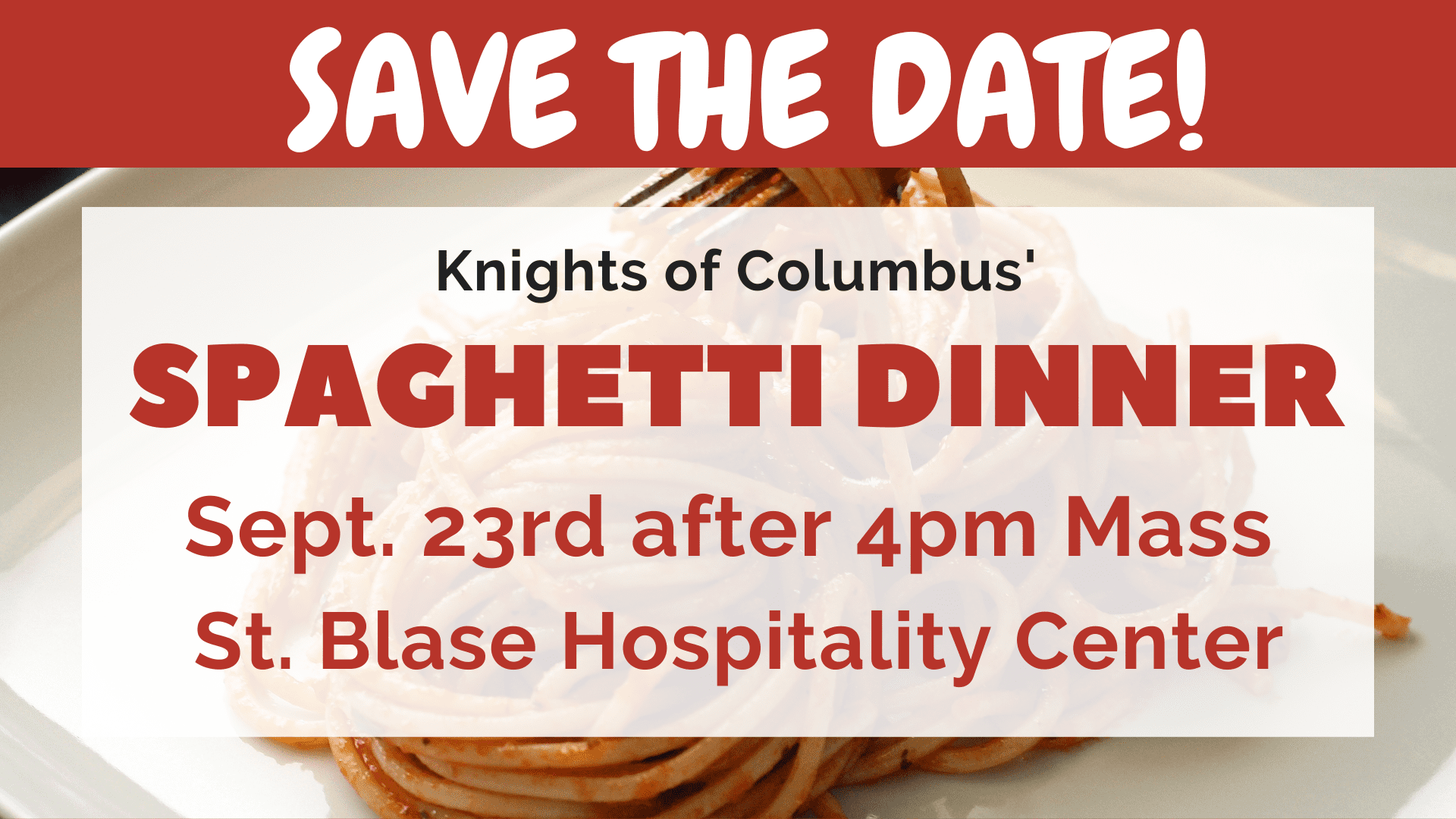 Join us for the Knights of Columbus' Spaghetti Dinner in the St. Blase Hospitality Center after the 4:00 PM Mass on September 23rd. There will be a free-will donation for the Haiti Outreach Mission. 50/50 tickets will be sold. Tin Can Raffles.
St. David Comedy Castle Fundraiser, October 24th, 2023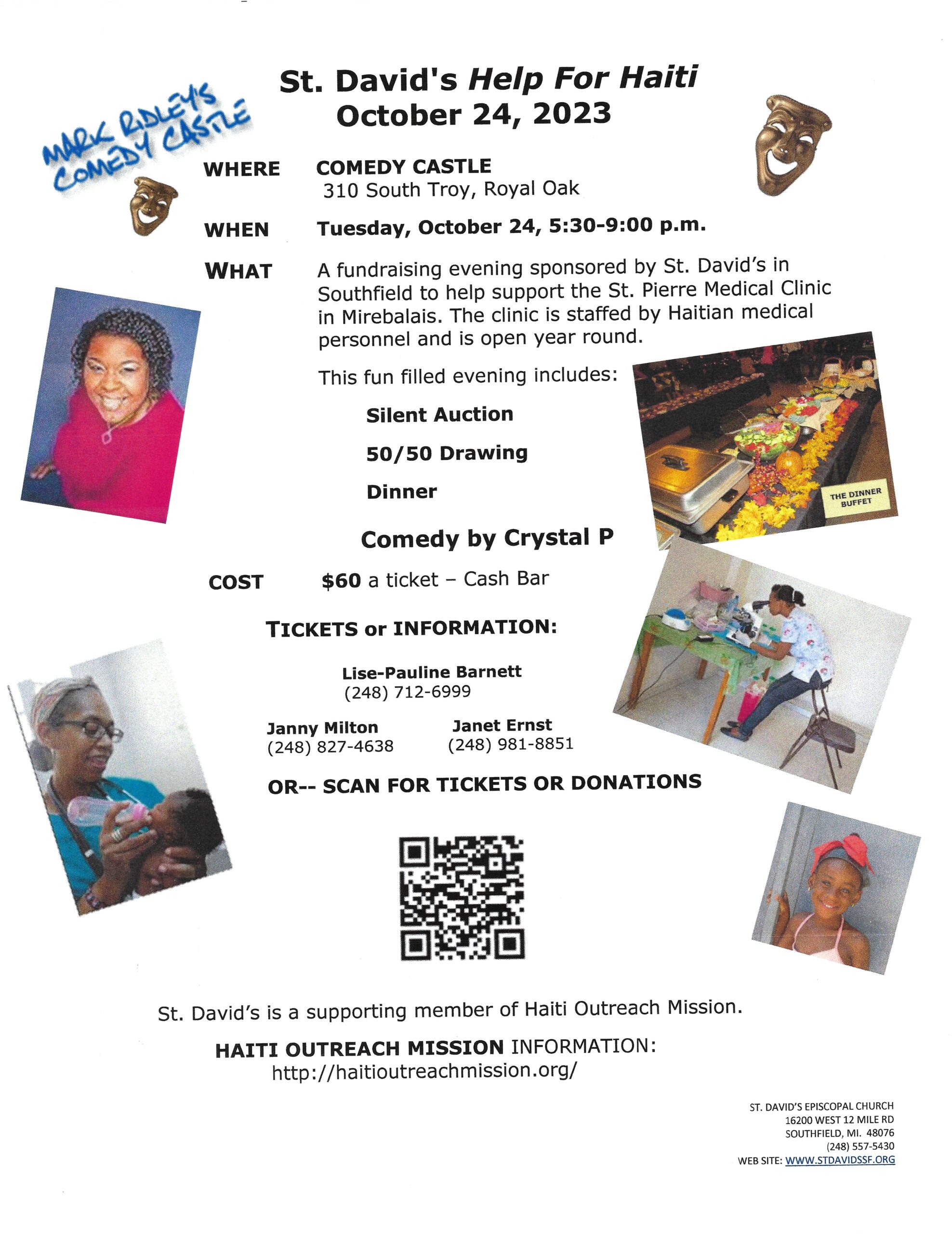 Haiti Outreach Mission Updates
Visual Update of the Mgr Remy Augustin School (former orphanage) and Water Purification Building
Haiti Outreach October 2022 Newsletter
A letter from Fr. Romel to Haiti Outreach Mission:
Dear Bill and Valerie!
How are you? Here we are doing well!
During the war of the gangs in Port au Prince that still makes people fear and where people are dying day after day, we keep receiving people in Mirebalais. I received the money HOM sent me to support some of them. However it was very difficult for me because of the quantity of people in need and who asked for support. I took time to choose the more vulnerable. Finally, at the end of June I made the decision to pay rent for 5 families and I gave money to 6 families who are welcoming other families from Croix-des-Bouquets to support them.
Now I am having great concern with a large family I am supporting. This family is a murge family with 3 heads. One head with 4 people, another one with 4 people and the third one with 6 people. That gives a total of 14 people. I give them some money from time to time but I cannot keep it. I took their kids to my schools. I am looking for tuition for them. I am trying to see how I can give them some money for little businesses. The husband of one family wants to raise chickens as a business. I am wondering how HOM could help me with this large family for renting, for tuition, for business and for chicken coop. I would like to make them independent. I have a lot of requests. Help me to take them case by case.
The situation is chaotic in Haiti. People are coming to the rectory to ask me as a priest to help them. It is a great suffering when I see the need for these people who are forced to leave their homes and sometimes even their jobs in Port au Prince and that I cannot help them. Please help me to open some doors for them.
Have a good night.
Fr Romel Eustache
Pastor of Saint Louis
Mirebalais
Video from our 2017 Haiti Mission Trip
Pictures from our past Haiti Mission Trip
History of St. Blase Haiti Outreach Mission
Saint Blase first became involved with the Haiti Outreach Project our contact with Saint Gerard parish in Detroit. Sr. Megan McElroy organized a group from Saint Blase to support the Haiti Outreach Mission. The organization was founded by Dr. Dominique Matthews and her husband Roger. Dominique is a member of St. Gerard Parish and Roger is a member of St. David's Episcopal Church in Detroit. Additional parishes that support the projects include: Our Lady of Victory Northville, Holy Cross Ann Arbor, and New Prospect Baptist Detroit. There are also many individuals who support the program. On the most recent trip there were 51 participants including 9 doctors and 3 priests, the rest of the group was made up of nurses, medical technicians, and people who assisted in organizing and maintaining the clinic. Two of the nurses on the trip were funded by Saint Blase. The majority of the work took place at the Clinic in Mirebalais. The clinic which was funded by the Haiti Outreach Project is only open when the group is in Mirebalais. During that week over 1000 patients were treated. The medications, vitamins, and personal hygiene products dispensed, were graciously donated and accomplished at the clinic; a playground was constructed at the new Saint Blase Orphanage. Fr. Louis extends his thanks to the St. Blase community for their continued support of the Haiti project.
Mirebalais is a town in Haiti with a population of approximately seven thousand people located about 60 miles north of the capital city of Port-au-Prince. It is now the home of the Saint Blase Orphanage. On May 8th 2005, the orphanage was officially dedicated. The orphanage was funded by our Saint Blase parish, and will house approximately 100 homeless children. The dedication was officiated by Father Louis, the Pastor of St. Louis Catholic Parish in Mirebalais, and was attended by approximately 200 people including three very proud parishioners of St. Blase: John Messina, Pat Byrne, and Bill Hafner.
The commitment to funding is provided through our tithing process as well as donations by parishioners and friends of St. Blase. The St. Blase Orphanage will care for children in Haiti for years to come. Please keep the children of St. Blase Orphanage in your prayers.