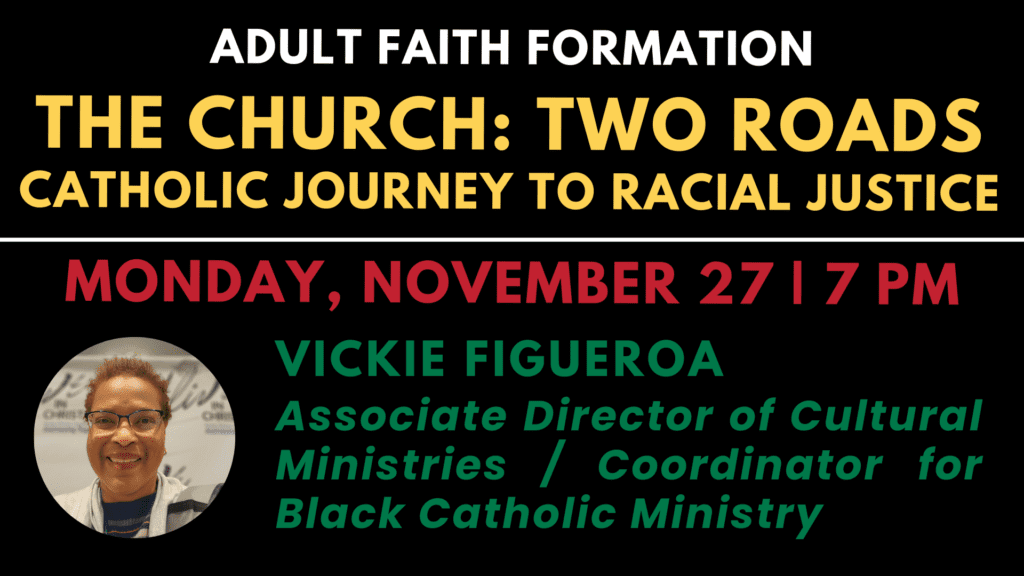 Adult Faith Formation
The Church: Two Roads
Catholic Journey to Racial Justice
Monday, November 27, 2023 | 7 PM
Presented by

Vickie Figueroa
Mark your calendars for our next Adult Faith Formation presentation, "The Church: Two Roads" on Monday, November 27th! We strive to be a welcoming Catholic Community. What steps can we take to further our mission? How can we, as Catholics, be advocates for racial justice? Where have we been? What are we doing? Where do we stand? Where do we go?
Meet our Speaker – Vickie Figueroa
Associate Director of Cultural Ministries / Coordinator for Black Catholic Ministry since Nov 2019.

Works with African-American, American Indian and Hispanic Catholic communities.

MAPS Degree with Evangelization and Catechesis emphasis from Sacred Heart Major Seminary.

Passionate about helping Black and Brown people feel connected to their faith communities.

Involved in various anti-racism efforts.

Member of Corpus Christi Parish – mainly Young Adult, Finance and Faith Formation areas.

Also member of the Detroit People's Food Co-op – to bring food equity to Detroit.

Cradle Catholic – what keeps me here: I feel, the faith at its truest – is a Matthew 25 faith: Judgement of Nations.