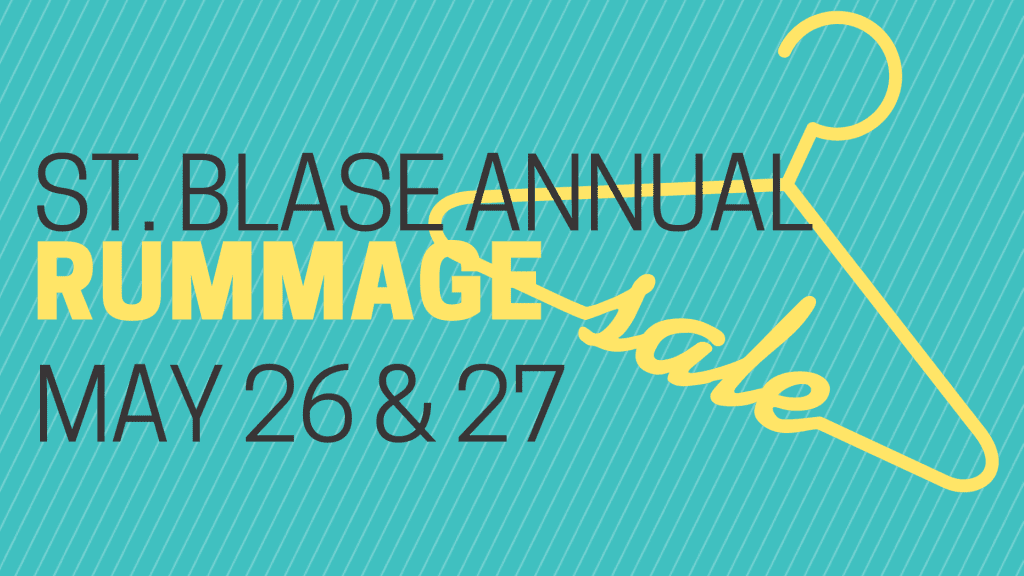 Shop the St. Blase Rummage Sale May 26 and 27 from 9 AM to 4 PM! Look for clothing, gadgets, collectibles, outerwear, toys, games, appliances, furniture, and more.
St. Blase will accept merchandise May 22 after 11:00 mass and May 23, 24, & 25 from 9:00am – 4:00pm. The following items WILL NOT be accepted:
• Car seats, car seat/stroller combos
• Cribs
• Computers, computer components
• Televisions, VCR's, large speakers, receivers/controllers
• Large appliances (small appliances OK)
• Stuffed furniture (padded seat chairs, desk chairs, hard small furniture OK)
• Mattresses and sleeping pillows
• Items knowingly under recall
• Items that are broken, severely damaged, or missing crucial or irreplaceable parts
The office WILL NOT store anything brought in prior to May 22nd. The parish will not pick up or deliver merchandise.
Note: *All bedding and clothing MUST BE LAUNDERED/CLEANED (bedbug prevention)*
Volunteers needed the week of the sale! Volunteers must be parishioners (no non-parishioners). All volunteers must provide Covid vaccination card indicating full vaccination status. Please fill out the form in our Parish Bulletin if you are interested in volunteering.